Restonic Bedding
Since 1938, Restonic has been supporting dreams by producing the highest quality sleep products. For more than three quarters of a century, they have contributed to more good nights than any other mattress company.
Consumers Digest Award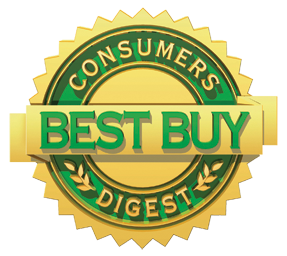 Our ComfortCare® mattresses first won the Consumers Digest Best Buy™ Award in 1987. We're especially proud of this award as it's based on 8 important criteria: performance, ease of use, features, quality of construction, warranty, efficiency, styling, and maintenance and service requirements. Very few other product lines have received the Consumers Digest Best Buy™ Award as many times as our entire ComfortCare® mattress collection. The Best Buy Seal and other licensed materials are registered certification marks and trademarks of Consumers Digest Communications, LLC, used under license. For information, visit ConsumersDigest.com.
Women's Choice Award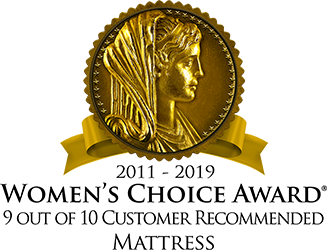 Since 2011, Restonic has consistently been awarded the Women's Choice Award® for Excellence in Brand Experience. Through a survey of previous Restonic customers, an astounding 96% of the women polled said they would absolutely recommend Restonic to their family and friends. Women's Choice Awards, the voice of female consumers, awards businesses and brands based on consumer experience. WomenCertified is trusted referral source for businesses and brands that women recommend. Those businesses and brands that meet a higher standard of customer experience among women are awarded the Women's Choice Award®. Awards are based on surveys of tens of thousands of women, as well as research conducted in partnership with the Wharton School of Business. This research led to the development of the Female Sales and Service Satisfaction.
Choose from Microcoil, hybrid, foam and latex mattresses.
Cradle your body in luxury that exceeds comfort expectations with a top-of- the-line Restonic microcoil mattress. Two self-encased coil systems (one is a micro-coil unit) for outstanding conforming support and pressure point relief. Our patented gel technology will keep you comfortable throughout the night, gently moving heat away from your body for a temperature-controlled.micro-climate. No need to choose between inner spring or specialty foams – you can have it all in this sweet system. With layered innersprings and patented foam technology, our hybrid mattresses deliver an optimal balance of pressure point relief and support. A more restorative, healthier sleep – and better mornings – are yours with a Restonic hybrid mattress.
Today is the 2 year anniversary of Five Sisters. I think that's amazing for any little business in a small town. I thank God for getting me through everything these last few years. My family has been a tremendous help. Thank you to everyone that supports the store, whether customer or consigner, I truly appreciate you. Even if you just stop buy for a visit, I'm happy to see you. With the help of all of you, my business will continue to be a success!Thank you.❤️
Lisa
...

See More

See Less